O'Connor Medical Group

O'Connor Medical Group is dedicated to the promotion of health and wellness in the pediatric and adult patients. Our staff of doctors, secretaries, nurses, and practitioners continually strive to improve our ability to communicate with and treat our patients and their families. We believe that medicine has become more than the diagnosis of illnesses and treatment of disease.

We will continue to strive to improve medical care by having patient's become more involved in their treatment objectives and goals. We will continue to use the technologies available to us in an effort to improve patient care. We have used electronic medical records since our inception and we will be implementing a variety of technologies in the near future to further improve our ability to practice medicine.
Continuity of care is best when our office is made aware of care sought at other facilities. Our providers are available 24/7 to provide advice for your urgent medical needs. Please call us prior to seeking care at an emergency room or urgent care facility. We have same day sick appointments available.
News

We request our patients to do the following as there have been issues with power outages in this area.
If you are unable to contact the office through our normal telephone service, please contact our answering service directly@ 716 827 1663 and ask for O'Connor Medical Group. The service will direct your call to the provider that is on call.
We are sorry for the inconvenience.
---
Flu shots are now available at our office.
Please contact the office asap to schedule this important immunization.
---
New patients
will be sent new patient forms (these forms can also be found under quick links on the right side of this page.) to be filled out before the appointment. Included in these forms is a record release. We ask that you fill this out and send to your previous physician, so we can obtain your old records for the provider to review before your appointment. All new patient correspondence and questions should be addressed to Shirley the office manager.
"
New patient forms are available on the website
."
---
O'Connor Medical Group
would also like to announce that Jacqueline Partridge PA will be joining our staff on January 3rd 2017. Welcome Jacque!
---
Call for refill reminder:
We ask for 72 hours notice for controlled substances.
---
Our Patient Portal is now available.
Click here
for General Portal information for Patients.
Click here
for our instructional Video
---
O'Connor Medical Group is proud to announce that we have achieved the highest level recognition (level 3) from the National Committee for Quality Assurance (NCQA) as a Patient Centered Medical Home.
The Patient Centered Medical Home (PCMH) is a health care setting that facilitates partnerships between individual patients,and their personal physicians. Care is facilitated by registries, information technology, health information exchange and other means to assure that patients get the indicated care they need.
The medical home concept is based on teamwork-teamwork between physicians and their clinical staff, primary care physicians, specialists, and their patients. Together, the members of your team using evidence-based guidelines, focus on the care and services you need including behavioral health in a manner that best suits a patient's need.
Your care team is available if you need them. We will be ready to respond when you have questions or concerns. You can contact us 24/7 thru the answering service.
You will be in close contact with all members of your care team-in person, by telephone, by email, etc.-so that we can properly coordinate and monitor the care you are receiving, track your progress and make sure that everyone involved in your care is on the same page.
You are an important part of your care team. We will ask you to provide us with complete information about your medical history and care received from other providers. We will work with you to help you understand your condition and how to take care of yourself.
---
Due to New York State regulations we now require 48 hours prior notice for prescription refills, and 72 hours for refills on controlled substances.
Thank you for your understanding and cooperation.
Form fees have increased to $10.00.
Please allow 10 days for completion.
---
The providers at O'Connor Medical Group are aware of increasing insurance deductibles for medical services.
For this reason, we urge our patients to familiarize themselves with the requirements (deductibles-copays) of their insurance plans. We regret that we are unable to discount or "adjust off" balances on any accounts as this is considered insurance fraud.
We understand that these are financially challenging times, however, we will not compromise your medical care due to limitations of your insurance policies. We ask our patients to understand our philosophy and thank you for your cooperation.
Quick Links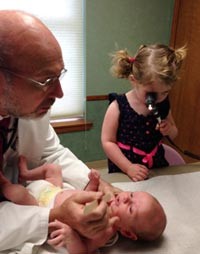 Dr Terry O'Connor at work with some our youngest patients!